The sustainability head's data collection tool.
Tired of disorganized mails and phone calls with value chain companies in order to gather ESG data? Coreport gives you a scalable and managed ESG data collection system.
Engineered to meet the standards of EU's leading companies
How it works
01

Initiation of Request

To initiate a data request, you use the Coreport web platform. You'll need to specify the email address of the relevant contact at the target company, usually someone in a role like sustainability head. Additionally, it's important to define the legal framework for your request to ensure that you are asking the right questions with the appropriate phrasing.

02

Acceptance of Request

Upon receiving your request, the recipient gets an email containing a link to the Coreport platform. After logging in, they have the option to accept the request, engage in a chat for clarification, or forward the request to a more appropriate colleague.

03

Data Specification

At this stage, you specify the Environmental, Social, and Governance (ESG) data points that you're interested in. The Coreport platform helps guide the recipient in how to provide the information you need, ensuring both its accuracy and relevance. The platform offers pre-made templates for easier data collection.

04

Incentive for Data Submission

As the recipient provides the data, they gain access to market trends in similar data points. Coreport presents real-time market figures, providing a competitive benchmark for the entity completing the form.

05

Automated Data Extraction

For companies that prefer to submit their information in report format, like PDFs, Excel sheets, or Word documents, Coreport's system is capable of automatically extracting the required data points from these files.

06

Organization and Tracking

You can manage your ongoing data requests in an organized manner, using folder-like structures. These could be categorized by reports or projects, for example. Additionally, the platform enables you to track the progress of your data request in real-time.

07

Follow-up and Reminders

If a company doesn't respond to your request in a timely manner, Coreport will send automated reminders to ensure your data collection efforts are not overlooked.

08

Data Presentation

Once the data is collected, you have the option to present it to various stakeholders in a format that is easy to understand and interpret.

09

Feedback Loop

After the entire data request process is complete, Coreport gathers feedback to continuously improve and streamline future requests. This enables you to understand what is important and subsequently modify your request templates accordingly.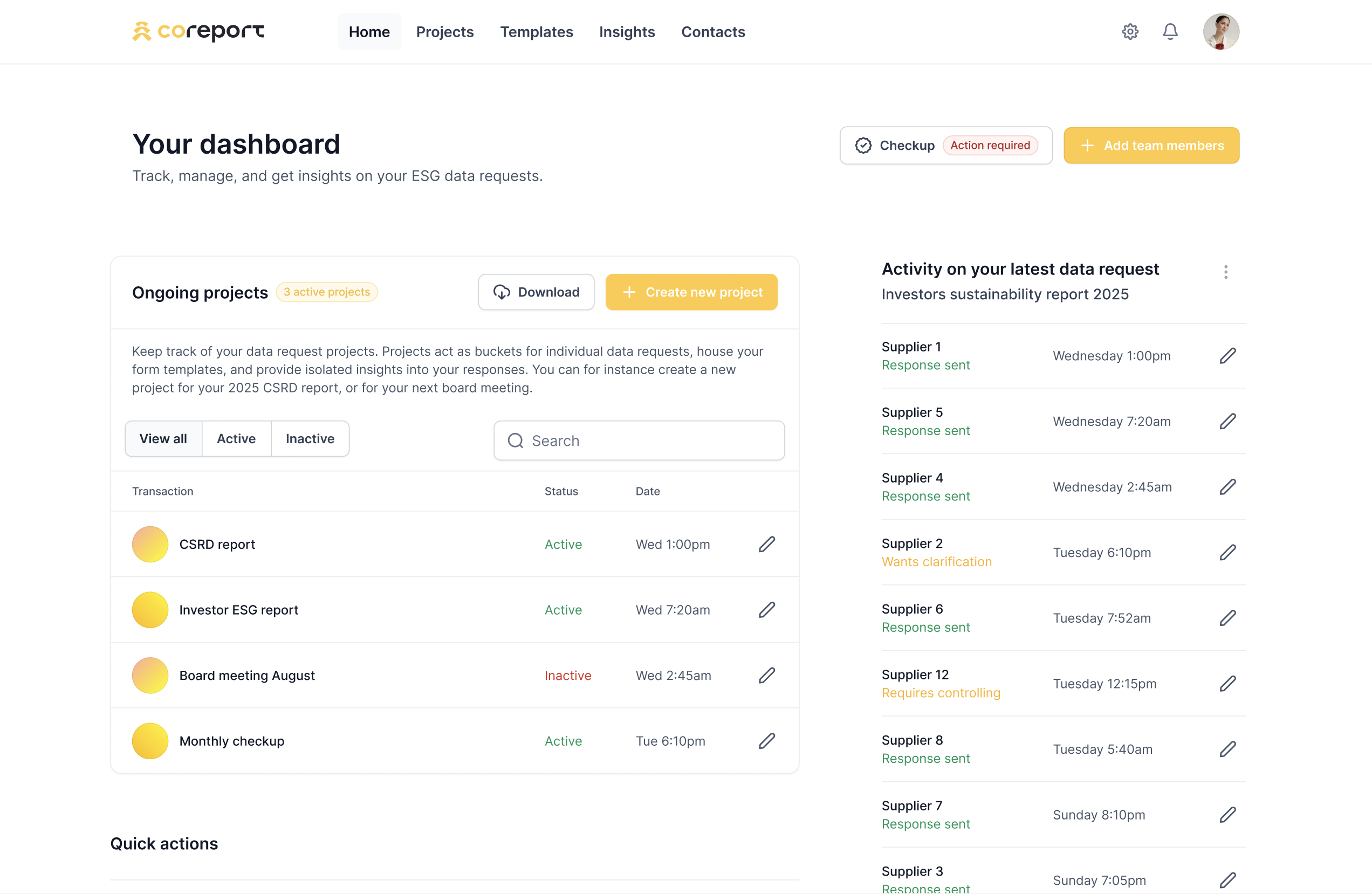 Frequently asked questions
Can't find the answer you're looking for? Reach out to our team to get help.